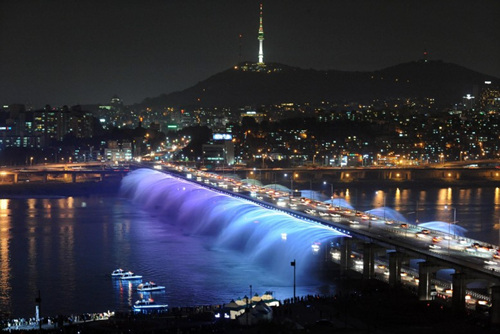 Image credit: www.visitkorea.or.kr
1. Banpo Bridge over Han River in Seoul, South Korea is a girder bridge completed in 1982.
2. The Banpo Bridge is on top of Jamsu Bridge, forming a "double deck" bridge.
3. Banpo Bridge Rainbow Fountain is the world's longest bridge fountain.
4. The Han(gang) River is located beside the Hangang Park.
5. The fountain shoots down 190 tons of water per minute to the river from each side of the bridge with its 380 nozzles.
6. At night the color of the fountain will be transformed to that of a rainbow by the 200 lights that radiate various colourful effects.
7. In 2008 the Banpo Fountain made it into the Guinness Book of World Records as the longest bridge fountain.
8. The fountain with nearly 10,000 LED nozzles that run along both sides that is 1,140m long, shooting out 190 tons of water per minute.
Image credit: www.visitseoul.net
9. The fountain is programmed to play different shows during the day and night.
10. The Moonlight Rainbow Fountain's water jets are dynamic and can move in time to music creating spectacular ever-changing displays.
11. The Moonlight Rainbow Fountain operates from April to October every year, however the schedule of the fountain shows varies from month to month.
12. When the sun goes down, 200 lights illuminate the fountain as it sends up dancing, rainbow-colored jets of water in the air in synchronization with music.